CAN-IB120/PCIe Mini
Passive PCIexpress-Mini board for CAN
With the CAN-IB120/PCIe Mini Ixxat offers an interface board specially designed for applications which require the implementation of a CAN bus interfaces with minimum space requirements.
The CAN-IB120/PCIe Mini is available with one or two optional galvanic isolated high-speed CAN bus interfaces.
Features and benefits
Economically priced passive board (no microprocessor on board)
Extremely compact design
Up to two CAN channels
Galvanic isolation optional
Common driver interface for easy exchange of the PC interface type
Driver
For the connection to the PC, Ixxat delivers the card with its proven Windows and ECI-driver for Linux, QNX, INtime and VxWorks. The driver supports all interfaces on the card and allows their usage both with customer specific programs or with the analysis and configuration tools from Ixxat. For Windows optional protocol API's are available to support CANopen or J1939.
The VCI driver also supports all other PC interfaces offered by Ixxat, which enables the user to easily switch the type of interface without any adaptation of the customer application.
Technical data
C bus interface
PCI Express Mini Card (V1.2)
PC address range
Plug & Play
Interrupts
Plug & Play
CAN interface
1 or 2 CAN interfaces; CAN 2.0 A/B; galvanic isolation (1 kV, 1 sec.)
Power supply
3.3 V DC
Temperature range
-40 ºC ... +85 ºC
Certification
CE, FCC
Size
30 × 50.95 mm
Contents of delivery
- CAN-IB120/PCIe Mini Interface
- CAN connection cable open style (20 cm)
- Driver VCI for Windows™ 2000, XP, Vista, Win 7, Win 8 and Win 10 (all 32/64-bit)
- Driver ECI for Linux, VxWorks and other OS
- Basic CAN-monitor "miniMon" (Windows™)
- User Manual
Part number(s)
1.01.0237.21000
CAN-IB120/PCIe Mini, 2x CAN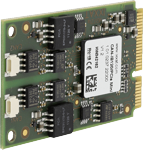 1.01.0237.22000
CAN-IB120/PCIe Mini, 2x CAN with Galvanic Isolation