CAN-IB120/PCIe Mini
Passief PCIexpress-Mini kaart voor CAN
Met de CAN-IB120/PCIe Mini levert Ixxat een interfacekaart die in het bijzonder ontworpen is voor toepassingen waarbij de implementatie van een CAN-bus interface een minimale hoeveelheid ruimte mag innemen.
De CAN-IB120/PCIe Mini is leverbaar met één of twee optioneel gegalvaniseerde high speed CAN-bus interfaces.
Kenmerken en voordelen
Kostenefficiënte passieve kaart zonder microcontroller
Extreem compact ontwerp
Max twee CAN kanalen
Galvanische scheiding optioneel
Standaard driver-interface voor eenvoudige uitwisseling met andere Ixxat PC-interfaces
Driver
Voor aansluiting op de pc levert Ixxat de kaart samen met zijn bewezen VCI-driver voor Windows en ECI-driver voor Linux, QNX, INtime en VxWorks. Deze driver ondersteunt alle op de kaart aanwezige interfaces en is zowel te gebruiken met klantspecifieke programmatuur als met de analyse- en configuratietools van Ixxat. Voow Windows zijn hogere protocol-API's beschikbaar voor CANopen of J1939.
De driver ondersteunt eveneens alle overige pc-interfaces die door Ixxat worden aangeboden wat het eenvoudig maakt om van type interface te wisselen zonder dat daarbij enige aanpassing nodig is voor de uiteindelijke klanttoepassing.
Technische gegevens
PC bus interface
PCI Express Mini Card (V1.2)
PC addresbereik
Plug & Play
Interrupts
Plug & Play
CAN interface
1 of 2 CAN interfaces; CAN 2.0 A/B; galvanische scheiding (1 kV, 1 sec.)
Voeding
3.3 V DC
Temperatuurbereik
-40 ºC ... +85 ºC
Certificering
CE, FCC
Afmetingen
30 × 50.95 mm
Leveromvang
- CAN-IB120/PCIe Mini Interface
- CAN verbindingskabel draadeind (20 cm)
- Driver VCI voor Windows™ 2000, XP, Vista, Win 7, Win 8 en Win 10 (allen 32/64-bit)
- Driver ECI voor Linux, VxWorks en overige OS-en
- Basis CAN-monitor "miniMon" (Windows™)
- Gebruikershandleiding
Bestelnummer(s)
1.01.0237.21000
CAN-IB120/PCIe Mini, 2x CAN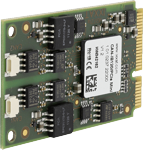 1.01.0237.22000
CAN-IB120/PCIe Mini, 2x CAN met galvanische scheiding