CAN-IB600/PCIe
Active PCIexpress-board for CAN FD and CAN 2.0A/B
With the CAN-IB600/PCIe Ixxat offers an interface board based on a modern, powerful and highly modular concept for the new CAN FD. The interfaces are available with up to two CAN channels. Each CAN channel can send and receive either CAN FD or CAN 2.0A/B messages.
Features and benefits
Active board with 32 bit microcontroller
Up to two CAN channels (CAN FD or CAN High-Speed)
Available as standard and low-profile version (on request)
Galvanic isolation
Common driver interface for easy exchange of the PC interface type
With its powerful microcontroller system the CAN-IB600/PCIe fulfills even high reqirements in data pre-processing, like intelligent data handling and active filtering of the received and transmitted messages.
Modularity
A Field Bus Expansion is inserted to the CAN-IB600/PCIe (or an expansion board) and thus adds an alternative field bus interface. The software can switch between either the original CAN channel or the field bus specific extension.
CAN Low Speed and LIN
For applications in the automotive industry fieldbus expansions with CAN Low Speed and LIN interfaces are available. The CAN-IB600/PCIe is thus available for up to four CAN-bus/LIN channels and can be fitted with galvanic decoupled interfaces. Due to the high number of interfaces, the board is also suitable for demanding applications - such as test benches, handling systems or manufacturing plants. If necessary, the number of interface channels can be extended by using multiple cards within one PC. Ask us about the possibilities.
Furthermore, the modular architecture of the interface card enables the easy extension with customer specific interfaces via piggyback modules.
Driver
For the connection to the PC, Ixxat delivers the card with its proven Windows and ECI-driver for Linux, QNX and INtime. The driver supports all interfaces on the card and allows their usage both with customer specific programs or with the analysis and configuration tools from Ixxat.
The VCI driver also supports all other PC interfaces offered by Ixxat, which enables the user to easily switch the type of interface without any adaptation of the customer application.
Technical data
PC bus interface
PCI express (V1.1)
PC address range
Plug & Play
Interrupts
Plug & Play
Microcontroller
32 bit microcontroller
CAN interface
1 or 2 CAN interfaces; CAN FD or CAN 2.0 A/B;
Sub-D9 plug according to CiA 303-1;
Galvanic isolation (1 kV, 1 sec.)
Power supply
3.3 V DC, 350 mA typ.
Temperature range
0 ºC ... +70 ºC
Certification
CE, FCC
Size
Approx. 65 x 105 mm (available as standard and low-profile version)
Contents of delivery
- CAN-IB500/PCIe Interface
- Driver VCI for Windows™ 2000, XP, Vista, Win 7, Win 8 and Win 10 (all 32/64-bit)
- Driver ECI for Linux, VxWorks and other OS
- Basic CAN-monitor "miniMon" (Windows™)
- User Manual
Part number(s)
1.01.0233.12010
CAN-IB600/PCIe, 1x CAN FD with Galvanic Isolation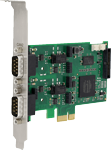 1.01.0233.22010
CAN-IB600/PCIe, 2x CAN FD with Galvanic Isolation