CAN-IB300/PCI
Passive PCI-board for CAN-bus (high / low speed)
With the CAN-IB300/PCI Ixxat offers an interface board based on a modern and highly modular concept. The interface is available with a standard or a low-profile slot bracket.
The card contains one or two CAN channels but can be extended modular with a combination of CAN bus (high and / or low speed) interfaces up to 4 channels. Thus the CAN-IB300/PCI can be deployed optimally for each desired application.
Features and benefits
Cost effective passive board without a microcontroller
Easy expandable via field bus expansion and expansion board
Up to four CAN channels (High-/Low-Speed optional switchable)
Available as standard and low-profile version
Galvanic isolation optional
Common driver interface for easy exchange of the PC interface type
Modularity
Using an expansion board and field bus expansions, the CAN-IB300/PCIe can be customize assembled.
An expansion board is placed next to the CAN-IB300/PCIe doubles the number of available CAN channels. The expansion card is connected by a ribbon cable. The board therefore requires no PCIe slot but occupies a space bracket.
A Field Bus Expansion is inserted to the CAN-IB300/PCIe (or an expansion board) and thus adds an alternative field bus interface. The software can switch between either the original CAN channel or the field bus specific extension.
The so-called MultiCAN is a double fieldbus expansion that adds two additional CAN channels to the IB200 board, without an expansion board is required. This solution is space (and cost-) effective because no additional expansion board is required and no additional bracket space is occupied.
CAN Low Speed
For applications in the automotive industry fieldbus expansions with CAN Low Speed interfaces are available. The CAN-IB300/PCIe is thus available for up to four CAN-bus channels and can be fitted with galvanic decoupled interfaces. Due to the high number of interfaces, the board is also suitable for demanding applications - such as test benches, handling systems or manufacturing plants. If necessary, the number of interface channels can be extended by using multiple cards within one PC. Ask us about the possibilities.
Furthermore, the modular architecture of the interface card enables the easy extension with customer specific interfaces via piggyback modules.
Driver
For the connection to the PC, Ixxat delivers the card with its proven Windows and ECI-driver for Linux, QNX, INtime and VxWorks. The driver supports all interfaces on the card and allows their usage both with customer specific programs or with the analysis and configuration tools from Ixxat. For Windows optional protocol API's are available to support CANopen or J1939.
The VCI driver also supports all other PC interfaces offered by Ixxat, which enables the user to easily switch the type of interface without any adaptation of the customer application.
Technical data
PC bus interface
PCI (V2.2)
PC address range
Plug & Play
Interrupts
Plug & Play
CAN interface
1, 2 or 4 CAN interfaces; CAN 2.0 A/B; Sub-D9 plug according to CiA 303-1
Optional: CAN Low-Speed (switchable via software)
Optional: Galvanic isolation (1 kV, 1 sec.)
Power supply
Typical 3.3 V DC, 100 mA / 5 V DC, 100 mA
Temperature range
0 ºC ... +70 ºC
Certification
CE, FCC
Size
Approx. 65 x 105 mm (available as standard and low-profile version)
Contents of delivery
- CAN-IB300/PCI Interface
- Driver VCI for Windows™ 2000, XP, Vista, Win 7, Win 8 and Win 10 (all 32/64-bit)
- Driver ECI for Linux, VxWorks and other OS
- Basic CAN-monitor "miniMon" (Windows™)
- User Manual
Configuration options
CAN HS
Interfaces
Galvanic
Isolation
Low
Profile
MultiCAN
Field Bus
Expansion
Board
1.01.0291.11000
1
1.01.0291.12001
1
1
1.01.0291.22001
2
2
1.01.0292.12001
1
1
1.01.0292.22001
2
2
Part number(s)
Standard
1.01.0291.12001
CAN-IB300/PCI, 1x CAN with Galvanic Isolation
1.01.0291.22001
CAN-IB300/PCI, 2x CAN with Galvanic Isolation
MultiCAN
1.01.0242.22000
MultiCAN module, 2x CAN with Galvanic Isolation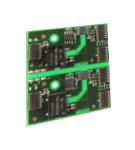 1.01.0242.00001
MultiCAN module Low Profile, 1x CAN with Galvanic Isolation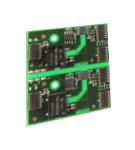 Fieldbus Expansions
1.01.0241.20001
Fieldbus Expansion, 1x CAN Low Speed with Galvanic Isolation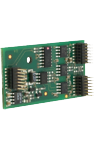 Expansion Boards
1.01.0240.22103
Expansion Board, 2x CAN with Galvanic Isolation
1.01.0240.22203
Expansion Board Low Profile, 2x CAN with Galvanic Isolation
Combination options
We would like to advise in finding the right combination of interface board and extensions possible to configure an optimal solution. Please request, without any obligation, about the possibilities.