CAN-CR210/FO, Fiber Optic Repeater
Converter from ISO 11898 CAN to fiber optic cable with hub
The CAN-CR210/FO is used for the conversion of the CAN bus signal from copper wire (ISO 11898-2) to fiber optic cables. This provides a complete isolation and protection against EM-influences. The hub-functionality allows the possibility for creating star or tree topologies.
Features and benefits
DIN-Rail backbone to support multi repeater-hub
Fiber optic enables transmission during high electromagnetic disturbances
Increased system reliability
Almost no influence on real-time behavior
Hub-functionaliteit
Several CAN-CR210/FOs (and/or CAN-CR200s) can be connected to a CAN bus hub via the integrated backbone bus.
Technical data
Display
Transmit and defective segment (three duo LEDs), Power (one LED)
CAN bus interface
ISO 11898-2, Sub-D9 connector. CAN termination resistors are integrated (switchable). Integrated backbone bus.
FOC connection
2 x F-SMA or ST terminal for duplex line (Glass 50/125 µm duplex)
Baudrate
Up to 888 kbps
Delay
~300 ns (translates into ~60 m (~90ft.) bus length) between the wire connection of a FO Repeater through the fiber optic cable to the wire connection of a second FO Repeater (not including the signal delay time of the fiber optics, which is ~5 ns/m)
Galvanic isolation
1 kV, 1 sec.; CAN 1
Power supply
9 - 32 V DC, 3 W typ., through terminals
Temperature range
-20 ºC ... +70 ºC
Housing, size
Plastic enclosure, 22.5 x 100 x 115 mm (without FO connector
Contents of delivery
- CAN-CR210/FO
- Quick Reference Manual
Part number(s)
1.01.0068.45010
CAN-CR210/FO, 1x CAN with Galv. Iso, 1x CAN backbone, 1x FO with F-SMA connector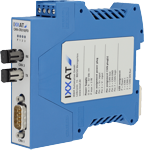 1.01.0068.46010
CAN-CR210/FO, 1x CAN with Galv. Iso, 1x CAN backbone, 1x FO with ST connector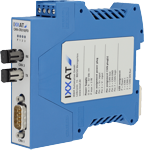 1.04.0073.00000
T-Bus-Connector for CAN backbone