Embedded BACnet MS/TP slave interface
Anybus CompactCom M30 BACnet MS/TP plug-in module
The Anybus CompactCom M30 for BACnet MS/TP is a complete embedded communication module and slave interface which enables your products to communicate on a BACnet MS/TP network. The module contains the complete functionality of industrial network slave/adapter interfaces and integrate through a standardized and network independent parallel or serial application interface towards the host automation device
The functionality of the interface is according the B-ASC communication profile with data sharing support for analog, binary and multi state value objects types. The module functionality includes Change of value notification and Alarm/Event functionality and it also has support for real time synchronization according DM-TS-B.
Forward compatible with M40
The CompactCom 40-series modules support the same APIs as the 30-series Modules. This means, if you are already using or want to combine the BACnet MS/TP with 40-series embedded Industrial Ethernet modules, it's possible to support both a mixture of CompactCom 30-series and 40-series modules within your embedded industrial device.
Features and benefits
A complete, interchangeable communication module with connectors
Short in-design with free assistance from HMS ensures a fast time to market
B-ASC for network compliance (enables faster network certification)
Standard application hardware interfaces: 8-bit parallel and serial
BACnet MS/TP Slave Interface
Complete BACnet MS/TP implementation, support the profile B-ASC with data sharing functionality
Analog, binary and multi state value object types supported
Support real time synchronization according DM-TS-B
Baud rates 9600/19200/38400/76800 bit/s via integrated galvanic isolation
New applications or designs
Although CompactCom 30 series is fully available and supported by HMS with network updates and maintenance, we recommend the new CompactCom 40 series for new designs, especially for Industrial Ethernet versions.
Technical specifications
Dimensions (L•B•H)
52 x 50 x 22 mm
51 x 37 x 16 mm (without housing)}
Operating temperature
-40 to +70 °C
-40 to +85 °C (without housing)
Power requirement
3.3 VDC, ±0.15 VDC
Application Interface
8-bit parallel
UART
Profile support
Generic device
LED indication
Integrated on front (with housing), via application interface (without housing).
Indicates Module Status and Network Status.
Connectors
2x RJ45
>Galvanic isolation
Yes
Mechanical rating
IP20, NEMA rating 1
Mounting
PCB mount (hook-on) or mounting clip (without housing), electrical via CompactFlash connector
Certifications
CE, CULUS, RoHS
Part number(s)
AB6226
Anybus CompactCom M30 BACnet MS/TP 5P(screw)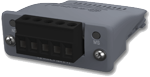 AB6326
Anybus CompactCom M30 BACnet MS/TP 5P(screw) without housing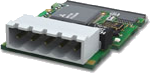 Options
SP1137
CompactCom Host Connector