CAN-IB500/PCIe
Pasieve PCIexpress-kaart voor CAN FD en CAN 2.0A/B
Met de CAN-IB500/PCIe biedt Ixxat een moderne, passieve en uiterst modulair ontwikkelde interfacekaart voor het nieuwe CAN FD
De-CAN interface kan berichten verzenden en ontvangen volgens ofwel het nieuwe CAN FD of het bekende CAN 2.0A/B.
Kenmerken en voordelen
Kostenefficiënte passieve kaart zonder microcontroller
Één CAN kanaal (CAN FD of CAN High Speed)
Verkrijgbaar in standaard en laag-profiel versie (op aanvraag)
Galvanische scheiding
Standaard driver-interface voor eenvoudige uitwisseling met andere Ixxat PC-interfaces
De CAN-IB500/PCIe is een passieve interface en geschikt voor toepassingen waarbij de datadoorvoer beperkt is.
De interface is leverbaar met zowel een standaard als een laag profiel beugel.
Modulaire opzet
Een veldbus uitbreiding wordt op de CAN-IB500/PCIe (of een uitbreidingskaart) gestoken en voegt zodoende een alternatieve veldbus interface toe. De kaart kan softwarematig omschakelen tussen het originele CAN-kanaal en de specifieke veldbus uitbreiding.
CAN Low Speed
Voor automotive toepassingen zijn veldbus uitbreidingen met CAN Low Speed interfaces beschikbaar. De CAN-IB500/PCIe is daarmee leverbaar tot maximaal vier CAN-bus kanalen en kan worden uitgevoerd met gegalvaniseerde interfaces. Dankzij het groot aantal interfaces is de kaart tevens geschikt voor veeleisende applicaties zoals proefbanken, besturingssystemen of de maakindustrie. Indien gewenst kan het aantal kanalen nog verder worden uitgebreid door meerdere kaarten in één pc te gebruiken. Vraag ons naar de mogelijkheden.
Verder maakt het modulair ontwerp van de interfacekaart het uitbreiden met klantspecifieke interfaces heel eenvoudig door opsteek modules.
Driver
Voor aansluiting op de pc levert Ixxat de kaart samen met zijn bewezen VCI-driver voor Windows en ECI-driver voor Linux, QNX en INtime. Deze driver ondersteunt alle op de kaart aanwezige interfaces en is zowel te gebruiken met klantspecifieke programmatuur als met de analyse- en configuratietools van Ixxat.
De driver ondersteunt eveneens alle overige pc-interfaces die door Ixxat worden aangeboden wat het eenvoudig maakt om van type interface te wisselen zonder dat daarbij enige aanpassing nodig is voor de uiteindelijke klanttoepassing.
Technische gegevens
PC bus interface
PCI express (V1.1)
PC addresbereik
Plug & Play
Interrupts
Plug & Play
CAN interface
Één CAN interface; CAN FD of CAN 2.0 A/B;
Sub-D9 connector volgens CiA 303-1;
Galvanische scheiding (1 kV, 1 sec.)
Voeding
3.3 V DC, typisch 400 mA
Temperatuurbereik
0 ºC ... +70 ºC
Certificeringn
CE, FCC
Afmetingen
Circa 65 x 105 mm (beschikbaar als standaard en laag-profiel versie)
Leveromvang
- CAN-IB500/PCIe Interface
- Driver VCI voor Windows™ 2000, XP, Vista, Win 7, Win 8 en Win 10 (allen 32/64-bit)
- Driver ECI voor Linux, VxWorks en overige OS-en
- Basis CAN-monitor "miniMon" (Windows™)
- Gebruikershandleiding
Bestelnummer(s)
1.01.0231.12010
CAN-IB500/PCIe, 1x CAN FD met galvanische scheiding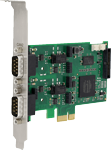 Opties
Andere configuraties en laag-profiel versies op aanvraag.