CANblue II, Draadloos CAN PC-interface
Draadloze CAN PC-interface met Bluetooth
De CANblue II is een CAN module welke met behulp van Bluetooth draadloos met andere Bluetooth-node's kan worden verbonden. Dit is ideaal voor zowel het onderhoud als de toegankelijkheid van moeilijk bereikbare CAN systemen of waar een CAN verbinding over draaiende/bewegende delen gaat. Een module fungeert als een gateway naar andere Bluetooth apparaten of meerdere modules als draadloze CAN naar CAN bridge via Bluetooth. Afhankelijk van de afstandsrestricties kan de maximale afstand tussen de CANblue en een Bluetooth-node oplopen tot maar liefst
200 meter
.
Kenmerken en voordelen
Snelle verbindingsopbouw
Hoog transmissiebereik
Interne antenne
Hoge datadoorvoer
Flexibele mogelijkheden (koppelen van meerdere CANblue II's)
Eenvoudige configuratie via Bluetooth in ASCII-formaat
Bridgemodus
De Bridgemodus stelt de gebruiker in staat een CAN bus / Bluetooth CAN Bridge tot stand te brengen met behulp van twee CANblue II modules. De uitwisseling van berichten vindt op transparante wijze plaats op Layer 2. De module kan eveneens worden gebruikt in CANopen-systemen, DeviceNet of klantspecifieke protocollen. Er kunnen filters worden ingesteld voor de data-uitwisseling via Bluetooth.
Bij gebruik van méér dan 2 CANblue II's kunnen meerdere CAN-bussen draadloos onderling gekoppeld worden.
PC-modus met VCI driver ondersteuning
Deze modes maakt de draadloze koppeling met een PC of notebook, voorzien van Bluetooth, mogelijk.
Omdat CANblue II wordt ondersteund door de VCI CAN-driver kan deze als, iedere andere, CAN PC-interface ingezet worden. Zodoende kan een draadloze toegang tot de CAN-bus eenvoudig worden bewerkstelligd met bestaande op VCI gebaseerde applicatieprogramma's en Ixxat-tools.
Seriële-modus
In de seriële-modus is een CANblue II draadloos verbonden met een willekeurig Bluetooth device dat het zogenaamde Bluetooth Serial Port Profile (SPP) ondersteunt.

CAN-berichten worden hierbij in een ASCII- of binair-formaat uitgewisseld.
CANblue II met externe antenne-aansluiting
Deze variant is speciaal bedoeld voor een goede ontvangst op moeilijk bereikbare locaties of wanneer een CANblue II in metalen behuizingen wordt ingebouwd. De interne antenne is vervangen door een aansluiting voor een aparte externe antenne, via een RP-SMA-connector.
Een externe antenne is noodzakelijk voor de juiste werking.
De volgende toebehoren zijn beschikbaar voor de CANblue II met externe antenne-aansluiting:
Stompe antenne met RPSMA plug
90⁰ knikbaar
Lengte 10 cm
2,5 dBi, 2,4 Ghz, 50Ω impedantie
Magnetische antennevoet
Met 1,5m kabel en RP-SMA
Ook voor buitengebruik
Ø47mm, 50mm hoog, 150 gram
Antennevoet gatmontage
Met 2m kabel en RP-SMA
Boorgat Ø20mm+0,2
Ø28mm, 20mm hoog, 80 gram
Technische gegevens
Bluetooth interface
Bluetooth specificatie V2.1 EDR, 200m max. transmissiebereik (ideaal)
Microcontroller
32-bit microcontroller
CAN controller
CAN 2.0 A/B
CAN bus interface
ISO 11898-2, Sub D9 plug volgens CiA 303-1
Voeding
9-30 V DC, 0.6 W
Galvanische scheiding
1 kV, 1 sec.
Temperatuurbereik
-40 ºC ... +85 ºC
Zend vertraging
circa 4 ms gemiddeld (in Shortest Latency Modus)
CAN prestatie bij 1 Mbit/sec
100% bus belasting
Antenne-aansluiting
RP-SMA (variant met externe antenne-aansluiting)
Certificering
CE, FCC, Telec
Behuizing
Kunststof behuizing met montagegaten
Afmetingen
82 x 64 x 26 mm
Leveromvang
- CANblue II module
- Driver VCI voor Windows™ 2000, XP, Vista, Win 7, Win 8 en Win 10 (allen 32/64-bit)
- Driver ECI voor Linux, VxWorks en overige OS-en
- Basis CAN-monitor "miniMon" (Windows™)
- Gebruikershandleiding
Bestelnummer(s)
1.01.0126.12000
CANblue II, interne antenne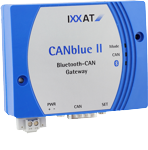 1.01.0126.12001
CANblue II, RP-SMA-connector voor externe antenne
(niet bijgevoegd)
1.01.0126.12101
CANblue II, RP-SMA-connector voor externe antenne
(niet bijgevoegd), zonder behuizing
Toebehoren voor varianten met externe antenne
1.04.0085.00000
Magnetische antennevoet met 1,5m kabel en RP-SMA-connectoren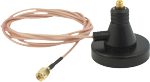 1.04.0085.00001
Stub antenne met flexibel 90° koppeling en RP-SMA-plug
1.04.0085.00003
Schroefbare antennevoet met 1,5m kabel en RP-SMA-connectoren, kabeldoorvoer variant