USB to CAN V2 Plugin PC interface
Actieve USB PC interface voor embedded toepassingen via USB
De USB to CAN V2 Plugin vereenvoudigt de design-in van een CAN-interface, eventueel aangevuld met LIN, in een klant-specifiek apparaat. Dankzij de compacte afmetingen is het afgestemd op toepassingen waar de ruimte beperkt is.
Zodoende dekt deze familie een breed scala van toepassingen af, zowel in industriële als in automotive sectoren.
Door het gebruik van krachtige hardware en de USB 2.0 Hi-Speed verbinding (480 Mbit/sec), behaalt deze interface een zeer hoge datadoorvoer met minimale vertraging bij een laag stroomverbruik. Dit zorgt voor betrouwbare, verliesvrije transmissie en ontvangst van berichten in CAN-netwerken met hoge transmissiesnelheden en busbelasting.
Door de aantrekkelijke volume prijs en het compacte ontwerp van de USB to CAN V2 Plugin-interface is deze ideaal geschikt voor toepassing in serieproductie.
Kenmerken en voordelen
Kosteneffectieve en uiterst veelzijdig
Compacte afmetingen
Gemeenschappelijke driver-interface voor een eenvoudige uitwisseling met andere PC-interfaces
Voor industriële en automotive toepassingen
Optionele galvanische scheiding
Varianten
De Ixxat USB to CAN V2 Plugin is gebaseerd op de nieuwe USB to CAN V2 familie. De interface heeft dezelfde kenmerken als de andere USB to CAN V2 varianten en wordt volledig ondersteund door de Ixxat drivers voor Windows (VCI) en Linux (ECI).
Met maximaal twee CAN- high speed kanalen, een CAN lage snelheid kanaal en één LIN kanaal - die via software kan worden geconfigureerd als master of slave te fungeren – is een groot scala aan toepassingen afgedekt, zowel in industrieel als in automotive gebied.
Technische gegevens
PC bus interface
USB 2.0 (Hi-speed

480 MBit/sec

)
Microcontroller
32 bit
CAN
 
 CAN controller
CAN 2.0A/B
 CAN baudrates
10 kBit/s ... 1 Mbit/s
 

CAN high-speed transceiver    

TI SN65HVD251D
 CAN low-speed transceiver 1
TJA1055T
LIN1
 
;LIN transceiver 1
TJA1020
 LIN protocol 1
V1.3 en V2.0
 LIN baudrate 1
Max. 20 kBaud
Galvanische scheiding
Optioneel (1 kV, 1 sec.)
Voeding
5 Volt, max 500 mA
Temperatuur bereik
-40 ºC t/m +85 ºC
Aansluitingen
Veldbus: enkel-rij header plug; 2,54 steek
 
USB: enkel-rij header plug; 2,54 steek
Afmetingen
67,5 x 40 x 9,2 mm
Gewicht
max 15 gram
Certificering
CE, EN 55022:2010, EN61000-6-1:2007

1 CAN low-speed en LIN enkel van toepassing op de USB to CAN V2 Plugin Automotive
Leveromvang
- USB to CAN V2 Plugin Interface
- Driver VCI voor Windows™ 2000, XP, Vista, Win 7, Win 8 en Win 10 (allen 32/64-bit)
- Driver ECI voor Linux, VxWorks en overige OS-en
- Bus-monitor "canAnalyser3 Mini" voor CAN en LIN, indien van toepassing (Windows™)
- Gebruikershandleiding
Bestelnummer(s)
1.01.0288.11003
USB to CAN V2 PlugIn, 1x CAN High-Speed,
zonder
galvanische scheiding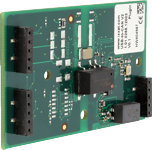 1.01.0288.12003
USB to CAN V2 PlugIn, 1x CAN High-Speed,
met galvanische scheiding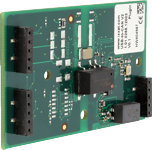 1.01.0288.22003
USB to CAN V2 PlugIn, 2x CAN High-Speed,
met galvanische scheiding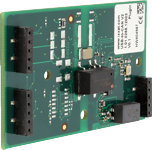 1.01.0288.22043
USB to CAN V2 PlugIn, 2x CAN High-Speed, switchable to
1x CAN low-speed and 1x LIN, alle met galvanische scheiding