Embedded Common Ethernet Module slave interface
Anybus CompactCom M40 Common Ethernet Module plug-in module
De Anybus CompactCom M40 voor Common Ethernet is een complete embedded Industrieel Ethernet communicatie plug-in module die uw producten in staat stelt om via een Common Ethernet-netwerk te communiceren. De module fungeert als een Common Ethernet slave interface en ondersteunt snelle communicatie snelheden, waardoor deze ook geschikt is voor high-end industriële apparaten.
Uitwisselbaar met andere netwerken
Door de implementatie van het CompactCom-concept in uw product lijn, krijgt u direct embedded toegang tot elk ander industrieel netwerk door simpelweg in een andere Anybus module in te pluggen.
Real-time Common Ethernet-communicatie
De Anybus CompactCom M40 zorgt voor een snelle communicatie tussen het apparaat en een Common Ethernet-netwerk. De industriële ethernet-protocollen PROFINET, EtherCAT, EtherNet/IP, Modbus TCP, Powerlink en CC-Link IE Field zijn via firmware-download beschikbaar. De module ondersteunt generieke apparaat profielen en komt met een dubbele poort switch die in de netwerk processor - de bekroonde Anybus NP40 - geïmplementeerd is. Met zijn snelle gegevensoverdracht en zeer lage verdaging, is het de perfecte match voor zelfs de meest veeleisende industriële toepassingen.
Kenmerken en voordelen
Een complete en uitwisselbare embedded Common Ethernet slave interface plug-in module met connectoren
Pre-gecertificeerd voor netwerk-conformiteit (maakt snellere netwerk certificering mogelijk)
Snelle gegevensoverdracht: Tot max. 1500 bytes procesdata in elke richting en max. 1500 bytes expliciete berichten
Zeer lage procesdata vertraging
Event-gebaseerde interface methode maakt een eenvoudige toegang tot input- en output-data op elk gewenst moment mogelijk
Snel, event- gebaseerde applicatie hardware-interfaces: 8/16-bit parallel en snelle SPI. Ook I/O (schuifregister interface) is beschikbaar
IIoT klaar: Inclusief e-mail cliënt, webserver met aanpasbare inhoud, SSI functionaliteit en FTP-server
Uitgebreide flash-gebaseerde file-systeem met toegang tot twee 'schijven' (intern en extern)
Transparante Socket Interface afhandeling van een volledige Ethernet-frame (ondersteuning voor 20 socketverbindingen)
Solide beveiliging: Verplichte software handtekeningen ter voorkoming van ongeautoriseerde software-download naar de module. Bovendien wordt encryptie gebruikt om illegaal kopiëren te voorkomen.
Korte design-in met gratis hulp van Twincomm en HMS zorgt voor een snelle time-to-market
Common Ethernet Slave Interface
Ondersteunt PROFINET, EtherCAT, EtherNet/IP, Modbus TCP, Powerlink en CC-Link IE Field via firmaware-download (enkel één protocol tegelijkertijd)
Per gewenst protocol dient een licentie afgesloten te worden
Zie andere M40 versies voor specifieke netwerk functies die beschikbaar zijn via Anybus CompactCom
Technische gegevens
Afmetingen (L•B•H)
52 x 50 x 22 mm
51 x 37 x 16 mm (zonder behuizing)
Bedrijfstemperatuur
-40 to +70 °C
-40 to +85 °C (zonder behuizing)
Voedingseisen
3.3 VDC, ±0.15 VDC
Applicatie Interface
8/16-bit parallel (30 ns toegangstijd
High speed SPI, baudrate configureerbaar tot max 20 MHz
I/O (shift register interface, cyclische update tijd 82 μs)
UART (terugwaards compatibel met 30-serie, max 625kbps)
Profiel ondersteuning
Generic device
Ethernet kenmerken
Transparent socket interface
Ondersteuning van HTTP forwarding via socket interface
Geïntegreerde 2-poort switch
IT functies (FTP server, E-mail client, web server met JSON en SSI ondersteuning
Internal file system
Configureerbaar tot max 28 Mb
Twee 'schijven' beschikbaar: Een interne(28 MB capaciteit), en één gereserveerd
voor de applicatie bestandssysteem (capaciteit bepaald door de applicatie)
LED indicatie
In front geïntegreerd (met behuizing), beschikbaar via applicatie interface (zonder behuizing)
Toont de Module Status en Netwerk Status
Connectoren
2x RJ45 100 Mbit/s
Galvanische isolatie
Ja
Beschermingsklasse
IP20, NEMA rating 1
Bevestiging
PCB bevestiging (hook-on) of bevestigingsclip (zonder behuizing), electrisch via CompactFlash-connector
Certificering
CE, CULUS, RoHS
Bestelnummer(s)
AB6610
Anybus CompactCom M40 Common Ethernet Module RJ45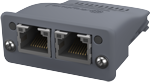 AB6710
Anybus CompactCom M40 Common Ethernet Module RJ45
zonder behuizing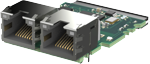 Opties
SP1137
CompactCom Host Connector

Protocol-licenties
Module komt zonder Industrial Ethernet protocol.Voor ieder gewenst protocol is een additioneel protocol-licentie noodzakelijk.