LIN to CAN gateway
LIN Master of LIN Slave naar CAN gateway
De LIN-CAN gateway is een universeel apparaat voor zowel de analyse van LIN-netwerken (Local Interconnect Network) via de CAN-bus en voor de emulatie van LIN master of slave modules. Bovendien kan het worden gebruikt als LIN-PC PC-interface voor PC-gebaseerde configuratie en monitoring software of voor PC-gebaseerde LIN module ontwikkeling.
Operation modes
De LIN/CAN-bus Gateway ondersteunt vier werkingsmodi:
LIN-CAN Gateway als LIN Master of LIN Slave
LIN-Slave Emulatie
LIN-Master-Slave Emulatie
LIN-PC Interface
De verschillende modi worden geconfigureerd via de pc. De configuratie wordt in het flashgeheugen van de gateway opgeslagen.
LIN CAN Gateway
De LIN-CAN Gateway-modus maakt de transparante overdracht van LIN berichten naar een CAN-netwerk mogelijk. Het apparaat werkt als een LIN master of LIN slave. Ontvangen LIN berichten worden doorgegeven aan CAN en de LIN-identifiers worden vertaald naar CAN-identifiers. De LIN gegevens worden doorgegeven via een CAN-object. Het apparaat biedt ook een zend-functie van LIN vanuit CAN. Hiervoor worden CAN-id's vertaald naar LIN-identifiers en, op verzoek van een LIN master, eenmaal verzonden in het LIN-netwerk. De data van het CAN object wordt opgeslagen in een buffer en vervolgens verzonden als LIN-data. Omzettingstabellen, die in de gateway zijn opgeslagen en via de PC geprogrammeerd kunnen worden, zijn beschikbaar voor de vertaling van de berichten.
LIN Slave Emulatie
De LIN slave-modus zorgt voor een stand-alone LIN slave-emulatie. Het apparaat heeft een configureerbare verzendtabel. Wanneer een LIN header wordt ontvangen, wordt de opgeslagen data verzonden. De tabel is instelbaar vanuit de PC en wordt opgeslagen in het flash geheugen van het apparaat.
LIN Master Slave Emulatie
Als LIN Master / Slave, werkt het apparaat als een stand-alone LIN-bus arbiter met LIN-Slave functie. Hiertoe is een configureerbare schema lijst beschikbaar is, die cyclisch wordt verwerkt. Naast de bus arbiter functie, is er ook een zendfunctie beschikbaar middels een instelbare zend lijst.
LIN PC Interface
Naast de stand-alone modus, kan de LIN-CAN Gateway ook aangestuurd worden via de seriële interface als een PC-interface. Zodoende kan het apparaat bijvoorbeeld worden gebruikt als een LIN-Slave waardoor LIN-objecten op de PC beschikbaar zijn voor monitoring. De zend tabel kan hierbij interactief worden aangepast. Bovendien is de LIN-Master functie beschikbaar waarbij de bus arbiter functie kan worden geactiveerd vanuit de PC. Met behulp van deze functies is een PC-ondersteunde simulatie van LIN-Slave of Master-apparaten mogelijk.
Alle modi kunnen via de PC geconfigureerd worden. De configuratie data wordt daarbij opgeslagen in het flashgeheugen van het apparaat en kan worden uitgelezen door de PC.
Technische gegevens
Microcontroller
Fujitsu MB90F543
Interfaces
1x CAN ISO 11898-2 High-Speed,
1x CAN ISO 11898-3 Low-Speed,
1x LIN,
1x RS232
Geheugen
128 kByte Flash, 516 kByte RAM
Extras
Automotive: Configureerbare Sleep mode met Wake up via CAN, LIN of RS232
Industriëel: -
Voeding
Automotive: 7 V ... 16 V DC, 1.5 W
Industriëel: 10 V ... 32 V DC, 1.5 W
Temperatuurbereik
-20 ºC ... +70 ºC
Certificering
CE
Behuizing
Robuuste metalen behuizing circa 100 x 85 x 32 mm
Leveromvang
- LIN2CAN
- Configuratie software voor Windows™
- Configuratie kabel (RS-232)
- Voedingskabel
- Gebruikershandleiding
Bestelnummer(s)
1.01.0130.00000
LIN2CAN Gateway - Automotive, 1x CAN, 1x CAN Low Speed, 1x LIN, 1x RS232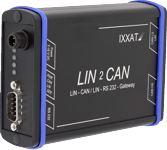 1.01.0130.91000
LIN2CAN Gateway - Industrieel, 1x CAN, 1x CAN Low Speed, 1x LIN, 1x RS232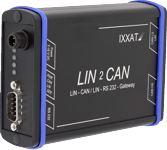 Opties
1.04.0086.00000
DIN-rail en muur bevestigingsbeugel voor aluminum LIN2CAN